The Christmas dining table is where all the magic happens — where the seasonal feasting continues into evening conversation long after the last mouthful has been eaten. Not only for Christmas Day – a dazzling tablescape can be a principle character in your decorated home during the entire Christmas period. Standing by to be a backdrop for many wonderful meals — from breakfast to Christmas dinner, or a casual cold supper for unexpected guests.
Our Christmas Gift Shop is brimming over with seasonal inspiration, gorgeous tableware, light strings, candles and candle-holders, glassware and table linen. Decide on your Christmas theme and we can provide all the props and effects. Let us help you conjure up an imaginative tablescape this Christmas, to leave you with magical memories and enchanted guests.
STYLE SORCERY

What about a stylish contemporary table with a twist on the traditional Christmas combination of red and green? Use plenty of berries and fir branches, with red baubles of all sizes and plentiful red candles and tea light holders. Green glasses, and the imaginative use of red tartan for napkins and runner, complete the spell.
NATURAL, UPDATED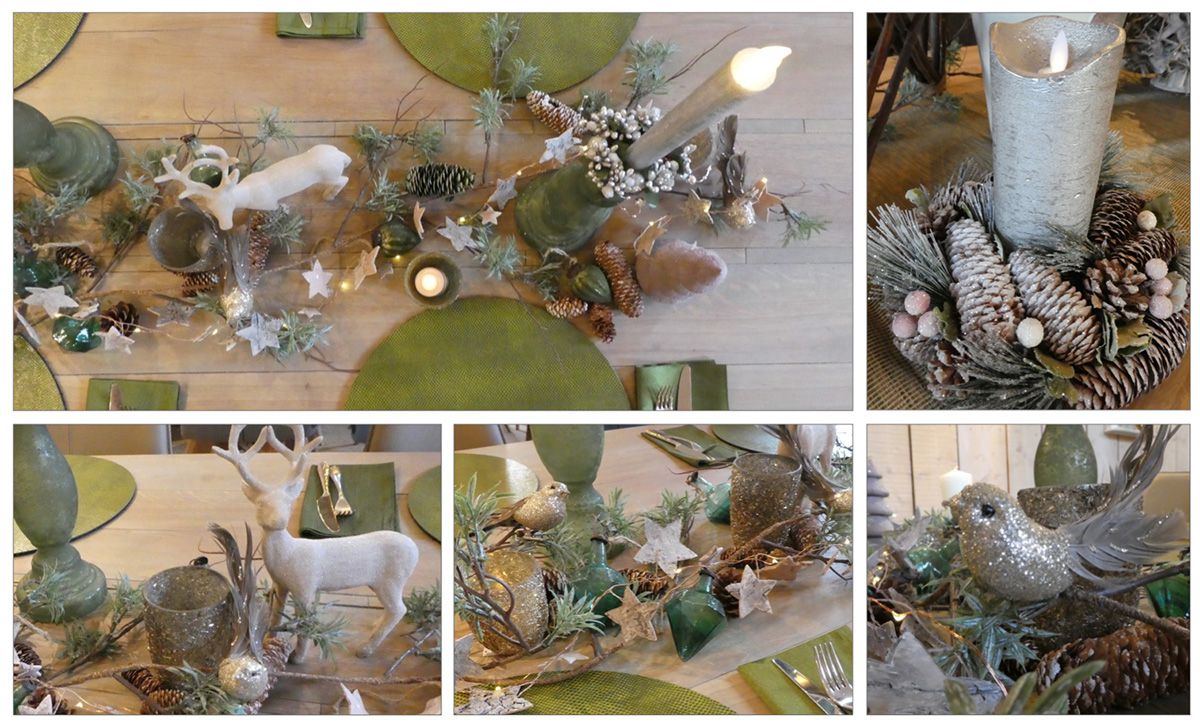 We love a contemporary, country Christmas table. Use a little sleight of hand and an abundance of found foliage to make a stunning festive tablescape. Dress tableware with tendrils of ivy and scatter pine cones on the table. Place a sprig of berries from the hedgerow on each place setting and use every candlestick and holder you possess to create an enchanted Christmas ambience.
THE TRICK OF ILLUMINATION
Christmas would not be complete without sparkle. Use light strings and candles everywhere! Warm white fairy lights trailing along a runner, tealights in decorative holders by each place setting, a candelabra or two and pairs of tall candlesticks dripping with wax. Add beaded table linen and napkins with metallic thread to maximise the glamour and shine.
TABLE TRICKS

After the plates and cutlery are laid, napkins folded and glasses polished, add personalised baubles as place names, little boxes of table games and surprise gifts for each guest. After the Christmas feast is over you can linger at the festive table – with cheese and biscuits, nuts and truffles, port and liqueurs, and sparkling conversation.
CLOSING THE MAGIC CIRCLE
Bring in a large branch from the garden and festoon it with glass and silver baubles, ribbons and tiny lights. Hang it from the ceiling on adhesive hooks, easily removable after Christmas. You have conjured a centerpiece that celebrates the beauty of winter. A standing ovation! Don't stop at your table - garland branches of fir around shelves, banisters and mantelpieces, find elegant long candlesticks, lanterns and glittering tea light holders to create yuletide, still-life dramas high and low.
Come to our Christmas Gift Shop for inspiration and, no matter which style you decide to choose this season, your Christmas tablescape will be a miniature wonderland to lift the spirits and spread some festive cheer. Magical memories will be made!