One of the major decisions to make when choosing a sofa is whether to have upholstered or loose covers. Sometimes called slip covers, they have long been a popular choice in many types of homes. Perfect for the country home, as they can be removed for cleaning, and perfect for families and pet owners for the same reason. They are an ideal solution if you like to keep your home up-to-date without investing in new furniture - colours and fabrics can be changed as fashions change. You can even have a different set of covers for winter and summer. We specially love slip covers on dining chairs - so easy to clean and change the look of your dining room with the seasons. Let's guide you through our Holloways collection.
SHABBY CHIC
Just one glance and you're drawn in to this fabulous loose-cover sofa collection from Tetrad. Timeless, traditional design that will be current for years to come. Deep, soft upholstery that's as welcoming as a warm hug on a cold night and assured quality from one of this country's finest soft furniture makers. These luxury sofas, armchair and footstool all come with removable loose covers. Add an extra set for different winter and summer looks.
COOL AND CONTEMPORARY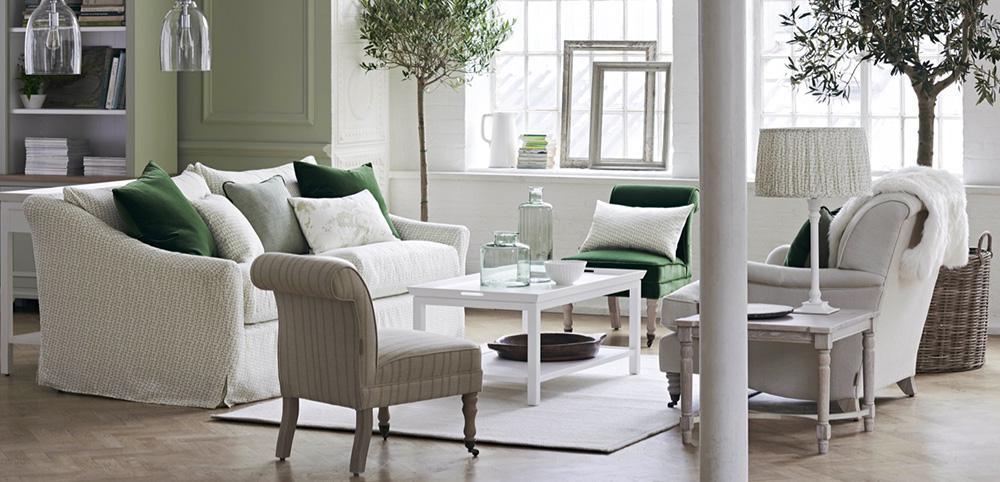 Long Island Sofa from Neptune, in Lara Sage
This comfortable sofa will bring a relaxed air to any room, carrying its loose linen covers casually like that man from Havana. The beach-house look is laid back but stylish and perfect for stretching out at the end of a long day, thanks to the deep seat and feather-filled back cushions. Neptune's Long Island sofas and armchairs are available in a range of loose covers in richly textured, plain and printed linens of different weights - fine, heavy and character linens.
Long Island Sofa from Neptune, in Chloe Ash
FAMILIAR FURNITURE
Kandinsky Sofa and Armchair from Tetrad
There is nothing abstract about this beautiful collection of modern living room furniture. But it does share its namesake's love of form and beauty. Kandinsky by Tetrad is a masterpiece of subtle contemporary living room furniture design, made even more practical by the use of loose covers that can be washed or cleaned, or easily swapped for a complete change of look.
SEASONAL SWOP
The Long Island dining chair is loved for its juxtaposition of subtle curves and crisp, modern lines. Expertly crafted from sustainably sourced American white oak with a serpentine sprung seat, it's built to last and for comfort. The linen chair covers can be washed and refitted thanks to the clever letterbox system that keeps them beautifully fitted.
See how different these two rooms can look with the different fabrics and paint colours, but both centred around the Long Island dining chairs. There is a lovely choice of linen and cotton fabrics to choose from. Make sure you have a spare set of covers in a different fabric.
EASY LIVING
The timeless shape of this beautiful armchair works well with the unstructured linen loose cover to create a relaxed contemporary, beach house look. Comfort goes without saying, thanks to the deep seat cushion and feather-filled back cushion. It looks so inviting - a place to curl up and relax with a good book.
We think there is always a place for loose-covered furniture in any home. You may just want one armchair, or mix a loose-covered sofa with upholstered chairs for an eclectic mix and match look. Whatever ideas you have, discuss them with one of our interior designers — they will love to show you how to make it happen.