Choosing a dining table and chairs should be an exciting time... It's such an important decision. Which room it is for - dining, kitchen or open-plan living, how are you going to use the table, eating (of course!) but also for homework and office work, family games, sophisticated dinner parties, coffee and chat... Do you need it to extend for special occasions, what chairs would look good. If you need some help we are delighted to work this all out with you and make sure you choose the prefect dining table for your home and your lifestyle. Take a look at our Top 10 Tables and get some ideas flowing.
UP-TO-THE-MINUTE STYLE IN DARK WOOD
The solid oak Detroit dining tables accompanied with deep-up holstered dining chairs and bench and matching sideboards, create a stunning contemporary dining room sets with an edgy, industrial look.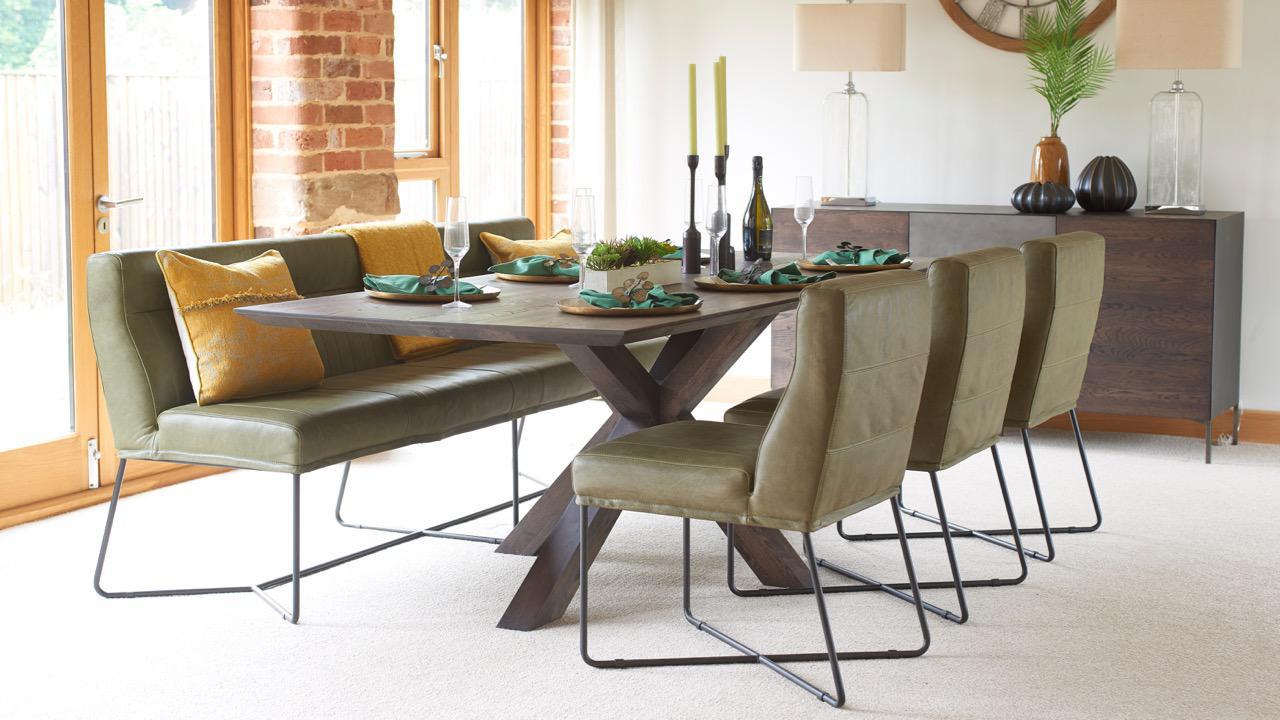 Detroit Table, dining bench and chairs in Antique Olive leather
If you have a dining space that demands a strong design statement - edgy, modern and with more than a hint of industrial chic - the Detroit collection could be right up your Route 66. We've paired up the strong industrial shapes of these solid oak tables and sideboards with seating inspired by the classic bench seats of those 20th Century, gas-guzzling, Motown monsters. But it's not all about looks. Take a seat and you'll understand why Detroit is a great place to sit and enjoy the company of friends


A RIVER RUNS THROUGH IT
The beautiful natural-edged oak, Monnow River dining tables and modern-look dining chairs create the ultimate contemporary dining set.
Monnow River Table and dining chairs
If you're looking for a clean, modern look for your dining space, these fabulous river dining tables and minimalist chairs not only deliver contemporary style in spades, but do so with a real 'wow' factor. The beautiful oak-topped tables all feature natural edges with a crystal clear or coloured epoxy "river" flowing down the middle. The tables stand on simple curved metal legs and are available in a range of oiled finishes and sizes. The matching Monnow dining chairs, minimal in design but very comfortable, are upholstered in a wide choice of vibrant wools and supple leathers.
ELEGANT OVAL OAK
This modern dining room set has an unmistakably European feel. Contemporary dining furniture that's eye-catching, yet totally practical.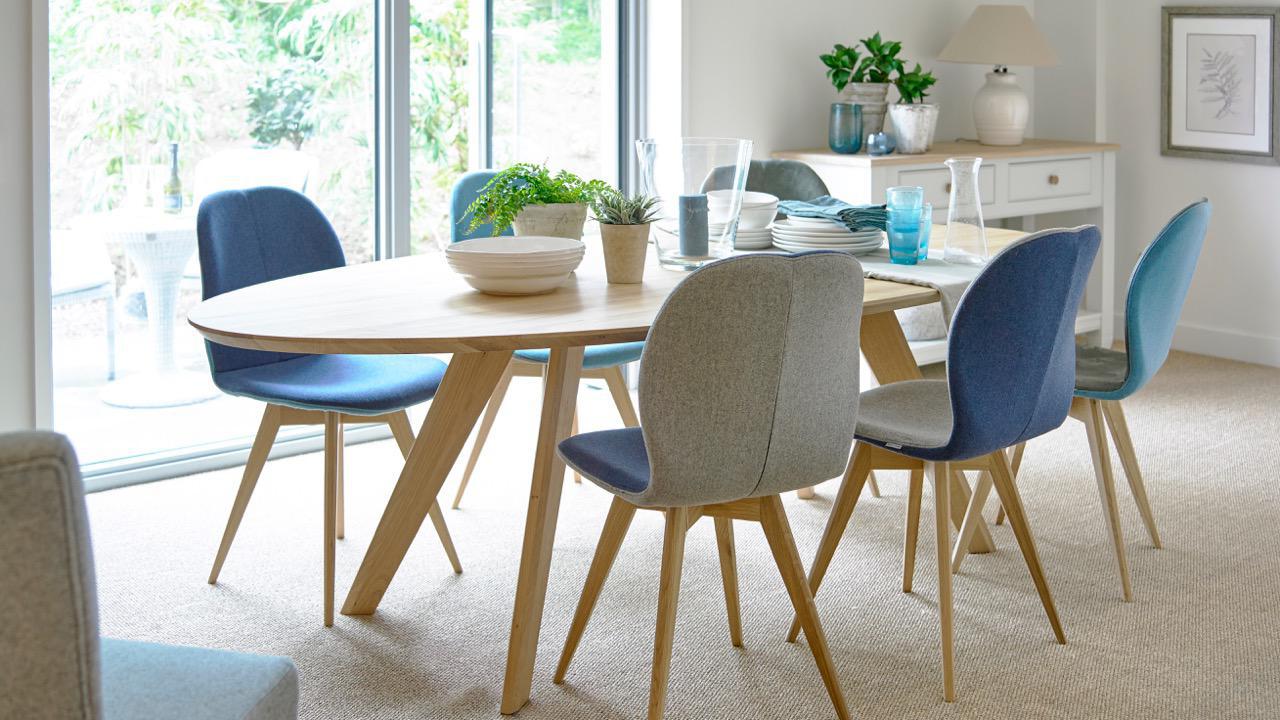 It's modern, elegant, a little bit funky and there's not a 90 degree angle to be seen. Bring a breath of fresh air to any living space with this modern oak dining table and chairs with a distinctly light touch. Made from solid oak, both the table and chairs have slender legs, allowing lots of light through, and the table is topped by a slim oval of oak - big enough to seat eight. Tresco is a stylish contemporary dinging room set with a choice of round or oval tables and elegant upholstered chairs in leather or wool or a combination of both.
ELEVATE A CONTEMPORARY HOME
This striking modern dining table and chairs can be configured to complement any contemporary home.
Thames Oak Extending Table and Chairs
The perfect marriage of industrial chic and elegant, modern design. The extending dining table will seat up to eight and features a solid oak top supported on anthracite steel legs. The oak top can be stained white, blonde, linseed or smoked oil. Four elegant dining chairs with a choice of steel or oak legs and an upholstered dining bench complete the set. There is a wide range of leather and wool fabrics in vibrant colours to suit any scheme.
SOLID OAK, UPDATED
Severn Table and six dining chairs
The sturdy rustic oak Severn table will enhance any open plan living space and is perfect for family meals and for entertaining. Available in three sizes, with optional extensions, to seat up to 12 people. The Severn dining chair is a perfect match for these tables and there is even a range of sturdy benches for a more casual feel. A selection of Severn sideboards and occasional tables will complete the look of your dining room.
A PERFECT BLEND OF TEXTURE
Wow your guests with this fabulous contemporary dining room set. Gorgeous, stylish and modern.
Picasso table and upholstered dining chairs
These stunning dining tables, combine the deep texture of old reclaimed wood with cutting edge modern design using polished stainless steel and glass. Available in three sizes to seat from four to eight people, the tabletop is made from strips of deeply grained, reclaimed wood under a sheet of tempered glass, all supported on two stainless steel, X-form pedestals. Simple, elegant and extremely comfortable, the Picasso dining chair is a classic piece of contemporary furniture design. Upholstered in Chic Petrol, a blue crushed chenille, these good-looking modern dining chairs feature a rolled top and buttoned back.
A TABLE THAT WORKS!
From family dinners to home office desk, getaway planning, homework or admin day, this fabulous oak extending dining table and chairs is made for a modern family home.
Oxford Oak dining table, Gigi chairs and oak bench
This beautiful, British-made solid oak dining table and matching bench have that quiet, contemporary style that works in almost any environment - formal dining room or casual kitchen. Doubly useful because the table extends to seat up to eight. Add a handful of bright, modern Gigi dining chairs in oak with wool or leather upholstery and you'll complete a stunning picture.
CHIC, ELEGANT, VIRTUALLY INDESTRUCTIBLE
Contemporary dining room tables don't get more edgy than this. A fabulous extending dining table with Dekton ceramic top.
Nordic Plus extending table with Anna upholstered chairs in velvet
If you're looking for dining furniture that's at the very leading edge of contemporary design, this stunning dining table and matching upholstered chairs will more than fit the bill. The slim, ceramic table top is made from Dekton, a virtually indestructible material formed from a blend of the same minerals used to produce glass and porcelain. It is stain proof, scratch and abrasion resistant, withstands high temperatures and can even be used outside, exposed to sun and frost without damage. The tables (there are five sizes to choose from) and the elegant chairs are available in a wide range of finishes. The collection includes extending dining tables.
THE BEAUTY OF NATURAL OAK
Appreciate the quality of finish and the beauty of the natural oak grain in our tactile Derwent table. The natural edge of the oak table top recalls its origin.
Derwent Oak Table, Bench and Chairs
There is no getting away from the origin of this table top - the edge of the timber has simply had the bark removed, then planed and waxed. The shape of the tree is clear to see. Available in eight different sizes, the Derwent is a contemporary and practical solid oak dining table with a natural edge and optional extension leaves to give great flexibility. Matching benches in a variety of sizes are also available. An attractive and bold dining table which displays the beauty of the oak. The Derwent chairs are perfectly matched to the solid oak dining table, sideboard and benches. They will also work wonders with any contemporary table. The wide choice of vibrant colours will give free reign to your imagination - you could even mix and match colours to pick out or contrast with different shades in your room.
WHERE CONTEMPORARY AND RUSTIC MEET
Right at home in a barn conversion or farmhouse, but thanks to crisp edges, a tactile, but not rustic, finish and subtle, natural colour, Arundel is just as suited to contemporary urban spaces.
Arundel extending table with Shoreditch chairs and Arundel bench
The striking Arundel dining furniture is made from natural oak with a heavily brushed finish. It has four-inch oak legs that lean inwards, and diagonal supports that give it great strength as well as a contemporary style. The Arundel range includes two fixed sizes of table and benches, an extending table plus a useful console and a coffee table. The Arundel tables look equally at home with benches or chairs.
So that's the Top 10 in Dining this season. We have many more dining tables and chairs online and in store, so come and take a look for yourself. All our dining tables can be matched with any of our dining chairs. And we know which dining chairs would look great - so call us for suggestions, 01886 884665. We're here to help!