COTSWOLD LIFE - SUMMER SPECIAL 2022
Lovely to see our gorgeous Chedworth Dining Set in this issue of the Cotswold Life magazine. The Arundel Dining Table, antiques courtyard and Jasper Corner Sofa also featuring and doing so in style.
RECLAIM MAGAZINE - MAY 2022
Holloways courtyard is filled with garden antiques and contemporary sculptures, and has been featured in the latest Reclaim magazine issue as the place to visit for all kinds of beautiful garden ornaments. Described as a "treasure trove of one-offs and multiples", there is something to choose from for everyone.
THE ENGLISH HOME - MARCH 2022
A feature on garden room design in The English Home's March 2022 issue pictured Holloways Lloyd Loom Camellia sofa and armchair. Available in a choice of finishes, from dusty green and snow (pictured) to pebble and taupe, there's a huge range of pretty upholstery fabrics, all designed to withstand the light and humidity levels in conservatories and garden rooms. Scatter cushions can be made up in almost any fabric of your choice and the light, aluminium frames give the sofa and armchair a truly timeless appearance.
SHIRE MAGAZINE - JANUARY/FEBRUARY 2022
The new year issue of Shire magazine featured a piece on finding stylish storage solutions and ways to declutter and refresh your home for the new season. Pieces showcased included Holloways new Jenson sofa, pictured below in our Neptune store-in-store with the Jenson love seat and Otis occasional chair. The Oxford home office and dining collections, including the Oxford corner pedestal desk desk with useful storage, Oxford open rack shelving unit with cupboards and filing drawers and the Oxford extending dining table and dining bench, were also featured. In addition, Neptune's Ardingly cabinet and the Dorset tall shoe storage bench and coat rack, were pictured in the feature.
WOMAN & HOME
Neptune's Lowther tableware was featured in Woman & Home magazine's Christmas special, along with inspiration for creating the perfect Christmas dining table. The feature also showcased Neptune's Handsworth cutlery and Emily linen napkins, available in shades from Salt to Mist (pictured), Olive, Apricot and Peat. Lowther is Neptune's most relaxed tableware and includes serving plates and bowls, dinner and side plates, dipping bowls, mugs and pasta bowls. With a distinctly handmade, artisanal feel, each piece is finished in a painterly blue/grey.
All products are available in our Neptune store-in-store.
MIDLANDS LIVING MAGAZINE - NOVEMBER 2021
Inspirational ways to decorate your home for Christmas was the subject of a four-page feature in the November issue of Midlands Living magazine. Holloways Interior Designer Annie Blackledge shared her passion for creating magical Christmas schemes in every room, with practical hints on creating centrepieces using greenery foraged from the garden, laying an enchanting dining table, welcoming holiday visitors with homemade cocktails and canapes, adding thoughtful touches to guest bedrooms and cosying up sitting rooms ready for the festive season.
Read the full feature over on our Journal or pick up your free copy in-store.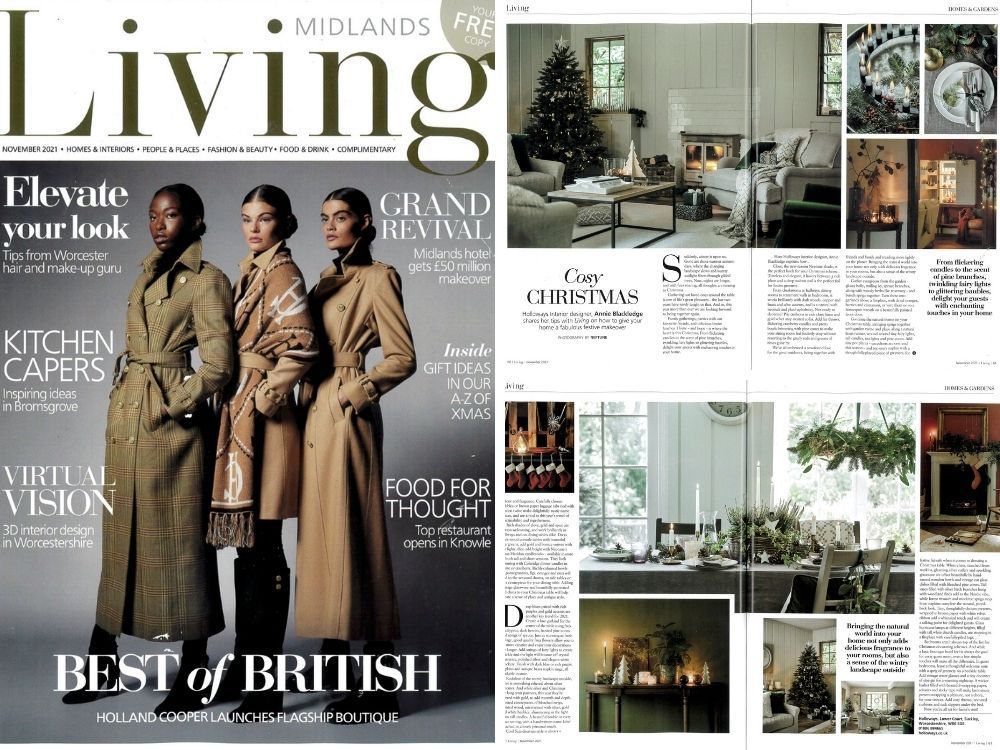 WORCESTER NEWS - SEPTEMBER 2021
Holloways Interior Designer Annabel Amphlett was one of 17 plucky skydivers who raised more than £30,000 for the Worcestershire Breast Unit Haven with a charity jump. On September 24, the Worcester News reported how Annabel and her fellow teammates tumbled out of an aircraft above Hinton Skydiving Centre in Northamptonshire to raise a whopping £31,600 for the Worcestershire breast cancer charity. Annabel, who organised the feat, described the jump as: "Exhilarating, terrifying and awesome all at the same time."
Read the full story here.
WORCESTER NEWS - SEPTEMBER 2021
A story in the Worcester News on September 16 documented how Holloways Interior Designer Annabel Amphlett planned to leap out of an aircraft at 13,000ft to raise funds for the Worcestershire Breast Unit Haven, based at Worcestershire Royal Hospital. The feat would be part of a year of charity work by Annabel and her husband Richard Amphlett, the High Sheriff of Worcestershire. Eighteen intrepid jumpers were due to make the leap at an airfield in Northampton, with a fundraising target of £18,000.
Read the full story here.
COTSWOLD LIFE - AUGUST 2021
Cotswold Life's August issue included a city feature on Worcester, celebrating the anniversary of the Battle of Worcester. A piece on Holloways featured our Sheldrake extending dining table with six, upholstered Long Island chairs, a staddle stone from Holloways Garden Antiques, dishes from the Glasshouse restaurant and the Jasper corner sofa, pictured in our Neptune store-in-store.
THE ENGLISH GARDEN - JULY 2021
A superb cider mill from our sister business Holloways Garden Antiques featured in the July issue of The English Garden. Celebrating the best garden art, the magazine also featured an antique wrought iron bench, pair of vintage stone lions and the bronze resin 'Tawny Owl' by renowned British sculptor Paul Harvey.
Similar pieces are available in an ever-changing catalogue of garden antiques and ornaments in our courtyards or shop online at Holloways Garden Antiques.
COTSWOLD LIFE - JUNE/JULY 2021
Part of a destination feature on Malvern and its surrounds, Holloways featured in Cotswold Life's June/July edition. Showcasing our interior design service, gift shop, Glasshouse restaurant and antiques courtyards, imagery included this four-seater Clementine dining set and Jasper corner sofa.
COUNTRY LIVING - JULY 2021
Daisy the unicorn pony, with her little rider Georgie, aged five, featured in the July edition of Country Living magazine. The Holloways team staged a dazzling photoshoot at the 14th Century English Heritage-run Leigh Court Barn with maestro florist Shane Connolly, of Shane Connolly & Co. Featured in this shot are the Derwent table, Arundel dining benches and chairs, Moreton table, Wycombe chairs and Arundel console table, as well as antiques from Holloways Garden Antiques.
COTSWOLD LIVING - JUNE 2021
Our Scandinavian-inspired Hellasgarden sofa set features in the Living Loves section of the June edition of Cotswold Living magazine.
They said: "We love the cool, Scandinavian design and rope dealing of this Hellasgarden outdoor sofa set from Holloways. The weatherproof two-seater sofa comes with two armchairs, two teak-topped side tables and a smart footstool for maximum comfort and style."
Shop the Hellasgarden collection here.
MIDLANDS LIVING - MARCH 2021
Our magical autumn photoshoot, featuring Daisy Grey the unicorn, Elvis the white rabbit, a flock of busy hens and a life-size bronze stag was featured in Midlands Living magazine's March edition. The Holloways team was joined on the two-day shoot at Leigh Court Tithe Barn by the Queen's favourite florist, Shane Connolly, and interiors specialist Andrew Davis Photography.
Read the full story in our Journal.
MIDLANDS LIVING - DECEMBER 20
Holloways Interior Designer Annie Blackledge shared her tips for creating a white Christmas in the December issue of Midlands Living magazine. From enchanting dining tables to welcoming entrance halls, cosy sitting rooms to memorable front doors, Annie's inspired interiors were accompanied by stunning images from Holloways archive and current showroom stock.
Read the full feature in our Journal.
COUNTRY LIVING - NOVEMBER 20
They say never work with children or animals, but Holloways autumn photoshoot featured a white rabbit hopping out of a top hat, a naughty stag, a flock of inquisitive hens and a real, live unicorn. No Photoshopping required here as the Queen's favourite florist, Shane Connolly, and a team of Holloways designers and stylists set to work transforming the majestic interior of Leigh Court Tithe Barn with flora and fauna. Two days of filming produced a set of truly magical images featuring Holloways new-season living and dining collections. Read more in our Journal.
HEREFORDSHIRE LIVING - OCTOBER 20
How to choose the perfect dining table was the subject of a feature on Holloways furniture collections in October's Herefordshire Living magazine. Featuring the Detroit, Nordic, Arundel, Matilder and new Larvik tables, the Time To Dine piece offered interior design tips for those looking to remodel their dining areas, whatever age or style their home.
COUNTRY HOMES & INTERIORS - OCTOBER 20
Neptune by Holloways Arundel table and benches, and Shoreditch upholstered chairs, were centre stage in Country Homes & Interiors' October magazine. With flowers by Shane Connolly, and featuring Daisy Grey the unicorn and her five-year-old owner Georgie, the campaign - shot at Leigh Court Tithe Barn - also showcased a life-size bronze stag and antique terracotta urns from Holloways Garden Antiques.
COUNTRY LIFE - SEPTEMBER 20
Country Life's September 16th issue featured Karen Bird's 'Niobe', Day Dreamer, another modern bronze, a vintage wrought iron gazebo and antique bench, all from Holloways Garden Antiques.
COUNTY HOMES & INTERIORS
Our Chichester workstation and Chicago, Oxford and Hebden desks are featured in July's Country Homes & Interiors
COTSWOLD LIFE MAGAZINE JULY 20
These fabulous 50s-style Poppy armchairs appear in the July issue of Cotswold Life magazine, along with our Oakridge high-back armchair.
SUNDAY TELEGRAPH 24TH MAY 20
The Sunday Telegraph featured our new Salerno HPL table in its At Home & In The Garden supplement, along with our Hellasgarden bistro set and Oakridge casual dining set with reclining sofas and armchairs. Our Chiswick garden room sofa also featured as one of the newspaper's 'recommended' pieces.
GARDENS ILLUSTRATED, JUNE 20
Gardens Illustrated magazine was in full bloom in the June issue with our Oakridge high-backed armchair.
LOCAL NEWS - HEREFORE TIMES
In May, our new garden furniture collections and statuary featured in the Hereford Times and Malvern Gazette.
COUNTRY LIFE JUNE 20
Ben Wouters' arresting bronze sculpture, Frederick, was the focus of June's Country Life magazine advertisement along with a vintage bird bath - complete with bullet hole in the cherub's head - an elegant urn and two vintage wrought iron and wooden benches.
COUNTRY LIVING MAY 20
Our beautiful Woodstock sofa, Tresco oval dining table and chairs, Monterey casual dining set and Camellia Lloyd Loom sofa and armchair appeared in the 35th anniversary edition of Country Living magazine.
COUNTRY LIFE MARCH 20
The March edition of Country Life magazine included a selection of vintage and modern garden ornament from Holloways Garden Antiques. Italian terracotta pots, a pretty wrought iron bench, staddle stones and a beautifully-weathered cider press - all regularly held in stock - featured in the advert.
MIDLANDS LIVING AND HEREFORDSHIRE LIVING, MAY 2020
At this time of year, all thoughts turn to the garden and creating an outdoor room is one of the most effective ways of maximising your space at home.
Our design experts shared their tips with the readers of Midlands Living and Herefordshire Living magazines, showing them how to combine our stunning garden furniture collections with clever lighting and accessories to create the perfect space for day and evening.
LIVING MAGAZINE 2019
No project is too big or small for home furniture store Holloways and its team experts interior designers, located in the picturesque village of Suckley.
Read the full article here Design Delights