Ultra Smart Powered Window Blinds | Electric Roman Blinds | Electric Venetian Blinds
ULTRA Smart Powered Blinds – a stylish addition to the contemporary automated home

Ask for a Free Design Consultation, Measurement and Fitting.


Automated living is becoming the norm in a modern household – heat and lighting controlled from a wall panel, slow cookers and washing machine cycles on timer-delay to finish when it suits you, and on-demand audio-visual entertainment controlled with a remote as you relax on the sofa.
ULTRA Smart Blinds extend this convenience and control to window blinds. A streamlined system, tailor-made to your home, combining leading-edge technology with smart aesthetics, at a surprisingly affordable price and with a 5-year guarantee.
Choose from roller, pleated, Veneto and Varalux styles, and over 400 different fabrics and colours.
The Advantages of Power Blinds
CONVENIENCE AND CONTROL
Simple remote controls, or wall-mounted panels, let you drop all the blinds in your bedroom with one touch of a button before you change out of your work outfit, or lower that one blind to stop a shaft of light that has crept over the TV screen.
ADVANCED AUTOMATION
Choose a pre-set programme based on a timer to raise the shades in the morning as a natural alarm clock, or as a thermostat to lower the blinds in the summer before the room gets too hot. Especially useful if you need to get kids to bed when you get home! Or program a light sensor to protect furnishings, artworks and plants from the damaging effects of sunlight.
NO HANGING CORDS
Maintaining the clean lines of your windows, with the added safety element of removing cords and chains, especially if you have young children or grandchildren.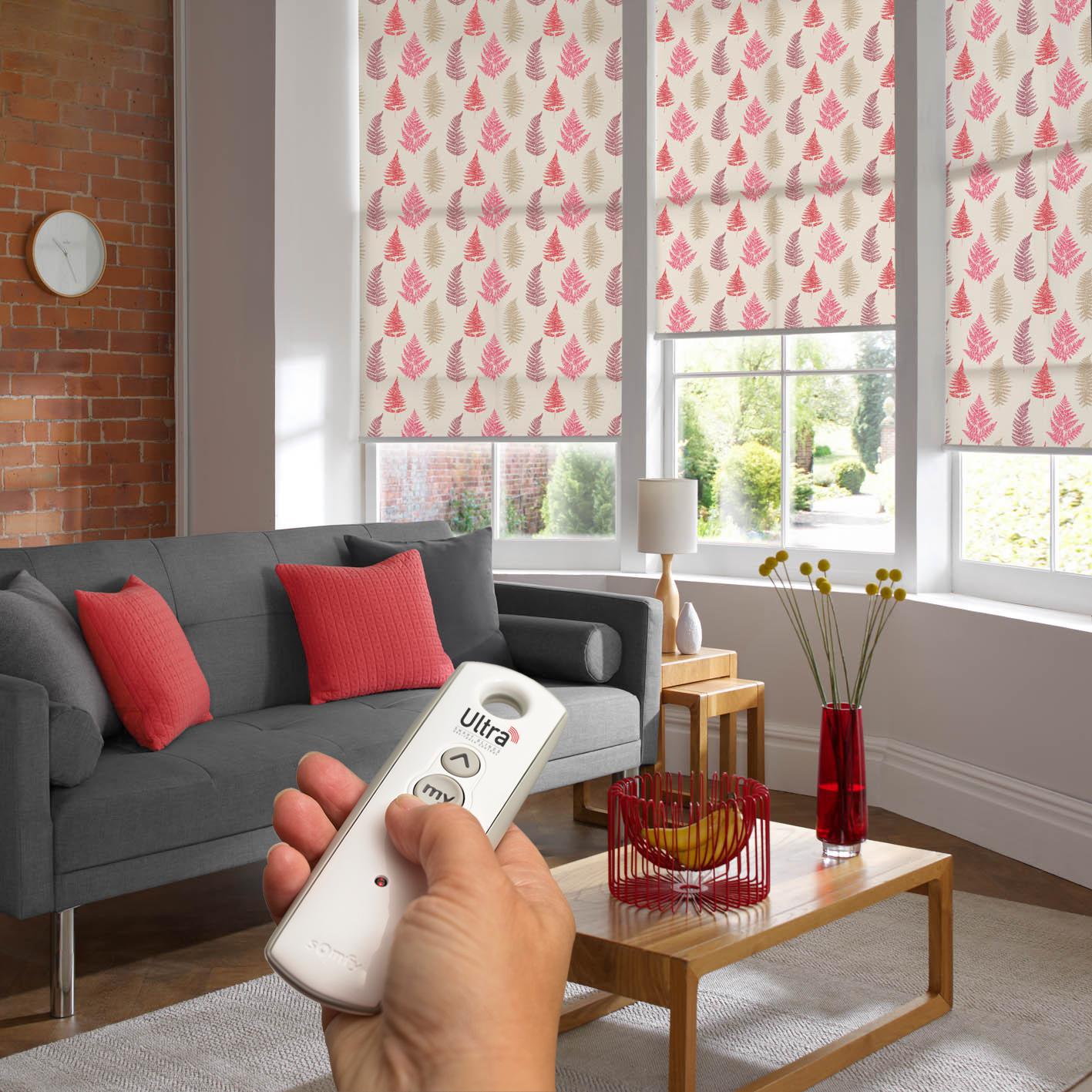 How ULTRA Smart Powered blinds are different
Wireless, so no trailing cables to the nearest plug socket. The window blind discreetly houses a quiet motor and a revolutionary, slim rechargeable power-pack.
No mains electricity needed.
No complicated installation to hide wiring.
The power-pack has a 12-month battery life (under normal operating conditions) and it can be recharged like a mobile phone battery.
An unobtrusive solar panel harnesses the natural energy of the sun, providing continuous charging.
Available in over 400 different fabrics and colours, including blackout, translucence and Honeycomb energy saving.
Free design consultation, measurement and fitting, even the most complex and individual window layouts can be catered for.
To find our more send for your free Home Shading brochure.