Ideas, Ideas, Ideas...
Furnishing a conservatory or garden room gives you the opportunity to use new ideas, different materials and styles of furniture you haven't used in other parts of your home. Mahogany pieces, heavily upholstered armchairs, elaborate window treatments, or modern minimalism do not belong here. You can use Lloyd loom, woven rattan and wicker and usual natural materials like woven seagrass and banana leaf (abaca) - all from sustainable sources.
A very different room
The environment of a conservatory is, quite literally, different from the other rooms in your house — the humidity will be higher, as will the levels of natural light, and it may experience periods of intense heat and rapidly changing temperature. You can take advantage of the environment by growing unusual specialist plants from around the world (in fact this was the original idea behind owning a conservatory), but you must select furniture with these conditions in mind.
Your Style
The most popular and practical choices for furniture for conservatories and garden rooms are rattan, willow or Lloyd Loom. Metal and glass are also suitable and stone, mosaic and marble top tables are an excellent choice if you intend to use your conservatory as an informal dining room. More comfortable, but casual, upholstered armchairs and sofas are fine to use in a garden room, where a solid roof reduces the levels of light.
Help is at hand
The possibilities are endless as can be seen by the huge variety of styles and qualities of conservatory furniture now available. It is sound advice to go to a specialist conservatory furniture retailer such as Holloways. Our experience can be invaluable to guide you around the choices. Our trained sales staff will help you to choose the right furniture and suitable upholstery fabrics from their enormous selection.We also have a well-chosen range of every type of accessory you could think of to complement your furniture — from cushions and throws to pots, planters, lamps and rugs. Don't forget, its the details that will bring your conservatory to life.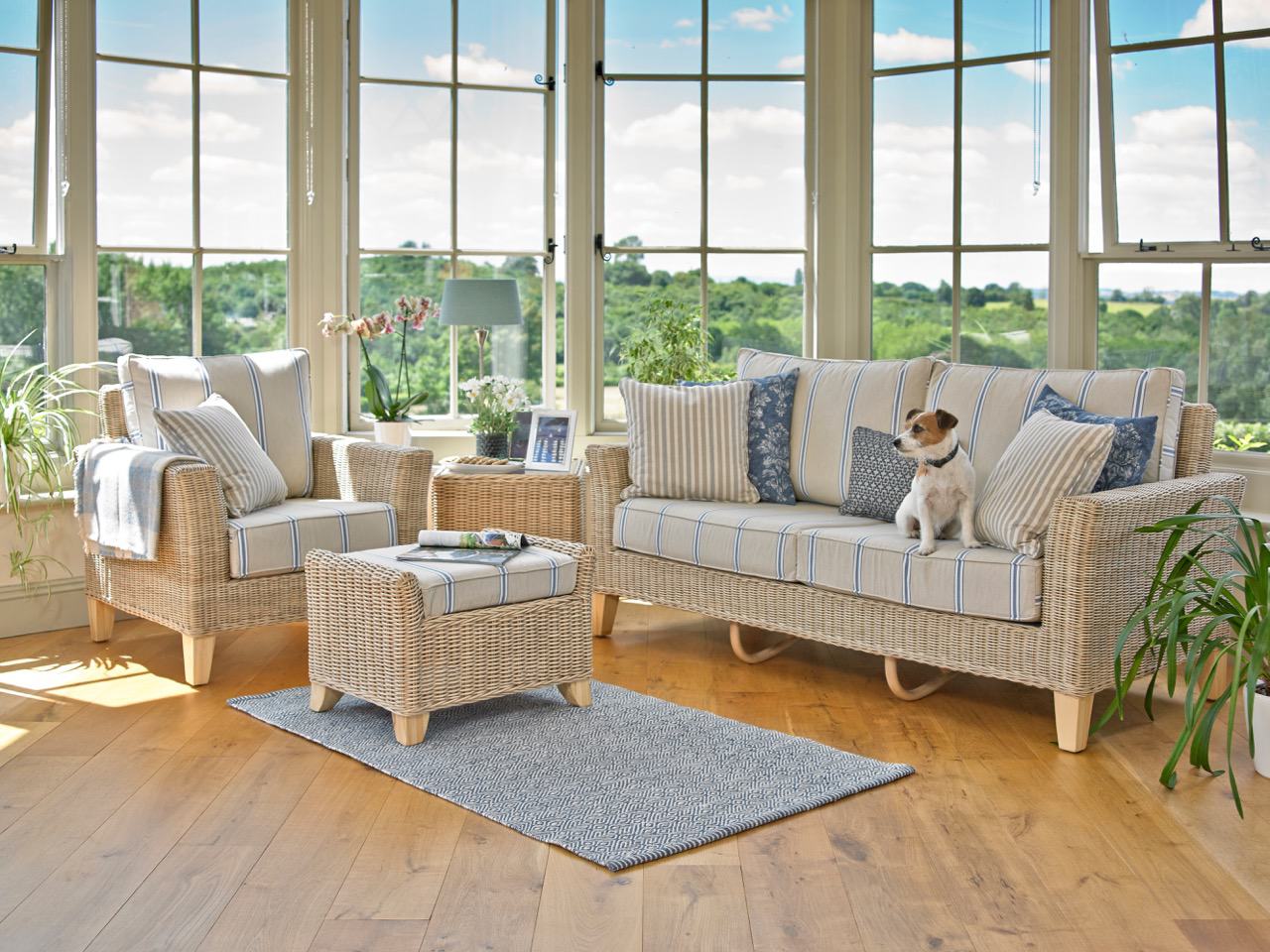 Free Interior Design Service
If you find all these choices overwhelming, take advantage of our free interior design service. Our trained interior designers will spend as much time as you need to make sure your room turns out just the way you have imagined it. Make an appointment any weekday between 9am and 5pm to see your interior adviser. Call 01886 884665 to arrange an appointment.